other titles...
See also...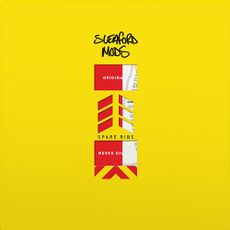 The New Brick
Shortcummings
Nudge It (feat. Amy Taylor)
Elocution
Out There
Glimpses
Top Room
Mork n Mindy (feat. Billy Nomates)
Spare Ribs
All Day Ticket
Thick Ear
I Don't Rate You
Fishcakes
sleaford mods
Spare Ribs
Rough Trade Records
If you're feeling the least bit politically jaded, this album is going to chime the heck with you, as the Nottingham duo reel off razor sharp invectives, rife with hooks and featuring show-stopping guest spots from amyl & the sniffers' amy taylor and billy nomates.
Recorded in lockdown in a furious three-week studio blitz at JT Soar in July, the polemical Jason Williamson and dexterous producer Andrew Fearn kick against the pricks with unrivalled bite, railing against hypocrisy, inequality and apathy with their inimitable, scabrous sense of humour. Their sixth lp finds them charged with ire at the UK Government's sense of entitlement, epitomised by its devil-may-care approach to the coronavirus crisis. "a bracing dose of reality and their best album yet […] The Nottingham duo put COVID Britain bang to rights with stunning production, great guests, scabrous lyrics – and a steadfast refusal to offer easy answers" 5/5 – nme
*no purchase neccasary, if you would like to be entered into this comp simply sign up to our newsletter.