For Those I Love
For Those I Love
SEPTEMBER RECORDINGS
---
Arrestingly savage but 100% danceable, the Dublin songwriter/producer's heart-rending, uncompromising street poetry is dished out over fizzing, gritty electronics that capture the cracks in the pavements, the cracks in lives, and, well, the craic.
Born out of tragic loss (that of his best friend and Burnt Out bandmate, the poet Paul Curran), cultivated in grief and delivered with a gusto chiselled from experience, David Balfe has produced a beautiful sound collage. Like a musical scrapbook of friendship, childhood and neighbourhood, it captures a gritty energy through recurrently self-referencing electronic beats, sound samples and his heavily accented spoken word delivery (which gives the whole record an irrefutable sense of place). It's an extraordinary and fitting eulogy.

For Those I Love's urbane electronica - that takes its cues from alternative hip-hop and various forms of club music - brings together Mike Skinner's most sincere moments with the bouncing melancholy of Bicep. To travel the length of this record is to embark on a journey laced with love, booze-scraps, failure and nights spent huddled around Myspace and Youtube. It's to take every blow to your chin. To avoid picking up the phone. To get lost in the mangled electronic mischief, the drag-down, the kick of survival. It's also about getting through all of that: rising up from the lowest low and finding salvation, redemption and, ultimately, hope.

We have a new love and we hope it never fades.


"Reminiscent of The Streets' night bus poetry" - The Guardian
"For Those I Love fights for the underdog… raw and uncompromising electronic music that taps into both deeply personal trauma and wider societal ills for influence" - The Fader
"His debut album as For Those I Love, due early next year, evokes the rave nostalgia of Jamie XX and the urban melancholia of Burial with a pitch black wit." - VICE
"Balfe will be one of the talents our entire cultural year orients around." - The Irish TImes
"A primal, unforgiving track – 'I Have A Love' grips you in its evocation – it's seemingly casual vignettes burning an imprint on your being when it's processed through loss." - So Young Magazine
"A release that explores grief, loss and friendship in such uncompromising, revealing and beautiful ways." - Nialler9

RAPH: The perfect soundtrack for this tumultuous year. A gut-punching delivery of teenage frustration, grief & platonic love over cathartic beats. This collection of songs is so meticulously crafted & striving for hope, it keeps you coming back no matter how intense the subject matter might be. A record I want as many people as possible to hear, in the hopes that one man's brave opening-up inspires the same within them.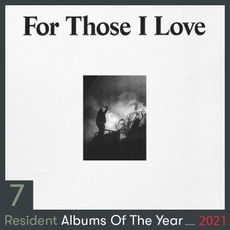 Tracklist
1. I Have a Love
2. You Stayed / To Live
3. To Have You
4. Top Scheme
5. The Myth / I Don't
6. The Shape of You
7. Birthday / The Pain
8. You Live / No One Like You
9. Leave Me Not Love
Dinked edition 96

• Signed & numbered print (individually drawn by David Balfe & unique to every copy) *
• Limited edition of 300
*exclusive to Dinked Edition