ishmael ensemble
Visions of Light
severn songs
---
A big "Yes please!" of a record.
This Bristolian collective helmed by producer & saxophonist Pete Cunningham, lace rave energy throughout a sprawl of spiritual jazz to create a unique, ever-shifting sound on their second album. Opening with a celestial cloud of brass & string plucks, we quickly dive into a buzzing underground pulsing with trippy synths & smutty skronk. That rollercoaster-esque duality pretty much sets the pace for the album as a whole. We constantly ebb & flow between the divine & the murky, the gentle & the brutal, the sublime & the lascivious. Head-nodding trip hoppers, beard stroking jazz nuts & quality beat hunters will unitedly love this expansive, genre bending set.
this one's a real beaut! head-nodding trip hoppers, beard stroking jazz nuts & quality beat hunters will unitedly love this expansive new album from the bristol experimental jazz collective. Bristol experimental jazz collective Ishmael Ensemble reveal their expansive new album Visions of Light. The follow-up to their critically acclaimed 2019 debut A State of Flow, praised by the likes of The Guardian, Mojo, The Wire and tastemakers across BBC 6Music, this sophomore record sees the group reimagine what an 'ensemble' can do; expanding into a shifting collective, where human relationships between artists underpin far-ranging, stunningly ambitious and emotionally heavyweight compositions. Helmed by producer and saxophonist Pete Cunningham, Ishmael Ensemble's richly inventive 2019 debut A State Of Flow marked them out as an explosive new force in UK jazz, imbuing lush cinematic compositions with left-field dub and electronic sensibilities redolent of Bristol's vital musical landscape. NamedThe Guardian's 'Contemporary Album Of The Month' and Mojo's 'Jazz Album of The Month', it saw the group perform Maida Valesessions for both Gilles Peterson and Tom Ravenscroft, as well as feature on compilations for Brownswood Recordings and Soul Jazz Records. Cunningham's rise as an in-demand producer led to remixes for the likes of techno royalty Carl Craig,as well as legendary jazz label Blue Note Records alongside a plethora of the UK's finest musical talent on Blue Note Re:Imagined. Ishmael Ensemble has since become a platform for Cunningham to subvert the conventional notions of producer/artist relationships, unsettling genre tags, and transcending the familiar landscape of UK jazz itself. Across the album's 10 tracks, Cunningham practices a holistic approach with a long list of collaborators. Together, they explore vast new sonic terrain with an honesty, intimacy and emotional heft impossible for a conventional band. Visions Of Light tells the story of Ishmael Ensemble's development across its two sides. The first draws from the energy Cunningham and his bandmates discovered whilst extensively touring A State Of Flow. The album opens with a cascade of harp glissandos and the gorgeous 'Feather' – Holysseus Fly's lush vocal lulling the listener into a false sense of security, before her voice is warped beyond recognition in the high-octane, cacophonous 'Wax Werk'. The tracks that follow take a darker, heavier turn. The driving, uninhibited performances of Stephen Mullins (guitar) and Rory O'Gorman (drums), along with Jake Spurgeon's agile synth work, lay the foundation for Cunningham to deliver his most confident and direct saxophone performances to date. Side B sees Cunningham settle into his role as producer and collaborator, resetting the scene with the vivid and playful 'Looking Glass', inviting vocalist, harpist and strings arranger STANLAEY to take centre stage. The landscape shifts again for the movingly nostalgic 'Morning Chorus', whilst 'The Gift' sees the angelic vocals of Tiny Chapter (Waldo's Gift) initiate a dizzying crescendo of swirling synthesisers and string arrangements. When Visions Of Light resolves with the gorgeous slow-burner 'January', it is with an unmistakable hopefulness – something that, in these times of disquietude, is urgently felt.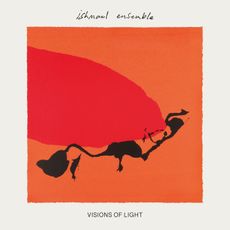 alternative dinked sleeve artwork


Intro
Feather
Wax Werk
Soma Centre
Empty Hands
Looking Glass
Morning Chorus
Visions of Light
The Gift
January

dinked edition 117

- Orange colour vinyl *

- Alternative design Dinked sleeve *

- Numbered Art Print *

- Limited pressing of 300 *

* EXCLUSIVE to Dinked Edition