audiobooks
Astro Tough
heavenly recordings
---
On album numero 2, the duo refine their craft with a lithe series of bubbling synth tapestries wrapped around candid, deadpan vocals.
audiobooks' music can be a lot to get your head around, but it's exactly that instinctive rejection of comfort zones that makes them so brilliant. "One of our best gigs was the one when everything went terribly wrong," Ling laughs. "All the sound totally cut out while we were really in the zone, everyone was shouting and swearing and being really abusive, then when it came back on it just went up another level. It's the gigs that are all over the shop that are the best ones."
Above all else Astro Tough is a record that brims with energy. With their roles diverging more clearly than on their debut – Wrench handles almost all the music, Ling the lyrics and vocals – both dig deeper into the enormous emotional potential of each. "I definitely go to town with my feelings," says Ling. "If I find I'm in a certain mindset, I'll go as extreme as I can with it in my lyrics. I know I'm being over-dramatic." Take the babbling hedonism of 'Lalala It's The Good Life' for example, or 'Blue Tits' – a song so toe-curlingly seedy that it's sometimes too much even for the singer herself.
audiobooks placed a significant emphasis on refinement this time around, concentrating and intensifying their chaotic powers. When performing early iterations of tracks like 'Black Lipstick' and 'First Move' live while on tour for their first album, they paid close attention to what worked and what didn't – how best to make their crowds dance, cringe, cry and laugh. "Playing stuff you know is a draft to an audience feels a bit naked, but I feel like I learnt loads from doing like that," says Ling. "Finding out what was working on stage was a good way to test things out."
Armed with the knowledge of exactly what works in a live setting, in the studio audiobooks knew exactly how to hone things to the sharpest possible edge. "The first record was almost entirely first take, it was all improvised," says Wrench. "This time we'd do that, then go back and refine it, take longer to work out parts, go back and redo some vocals. Anything that bugged us, we went back and ironed it out." Take 'Farmer', for example, the opulent, dramatic ballad that closes the album. "We gradually built it up over time. Whenever I was near a piano, I'd add a little bit more."
Though the record is a product of increased refinement, the pair were physically together only in bursts, cramming sessions around their respectively hectic calendars. "We had much less time together than on the first record, but every time I did see David that thirst and the ability to come up with something was there. I think this record is better than the first record, and I think we're dying to make more. We're going to try and better it again," Ling says.
Even when the coronavirus outbreak put an end to those spirited sessions, audiobooks kept relentlessly fine-tuning; here, Wrench's production wizardry came in handy. "The album was 95% there at that point, but we still had final bits of lyrics that we had to do over voice memos. Evangeline would sing into her phone and I'd have to do some serious sonic manipulation to make it sit next to vocals recorded on super expensive mics…"

"Although it did need a few takes," his bandmate interjects. "He'd be like 'can you try it standing up?' He knew when I was sitting down!"

As audiobooks were making the final adjustments to their new record, the world around them was getting grimmer by the day. As a result, a darker side to their sound began to bubble to the surface – a newfound heaviness that's apparent on the eery and driving 'He Called Me Bambi', for example, or the whirling 'Trouble In Business Class'. "We would have got there anyway," Wrench points out; this is not a 'lockdown record', "but being in that frame of mind did make it easier to see how we needed to tweak things. There are light moments of this record, but in general the lyrics are definitely darker."
On Astro Tough audiobooks are completely sincere. They're also completely joyous, wild, angry, powerful, hilarious, vicious, vulnerable and intense, and most of all completely brilliant. It's the sound of David Wrench and Evangeline Ling reaching new peaks of creativity, more confident than ever before in their abilities to forge something focussed, singular and unique out of the explosive combination of their talents.
Endlessly forward-thinking, it says a lot that they're already fixated on what's next. "The conversation never stops," says Wrench. "Even earlier today we were talking about ideas, a whole list of new things to try in the creative process. We've already got more songs that aren't quite finished, but are really strong."
"I'm just dying to get back into the studio," adds Ling.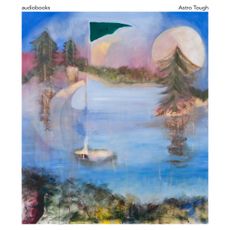 The Doll
LaLaLa It's The Good Life
The English Manipulator
He Called Me Bambi
Blue Tits
First Move
Driven By Beef
Trouble In Business Class
Black Lipstick
Farmer