DEAFHEAVEN
Infinite Granite
Sargent House
---
What a transformation! The Californian quintet have discarded their metal masks & have instead turned up in flowing post-rock robes.
Aided by producer Justin Meldal-Johnsen (M83, Wolf Alice) they indulge the shoegaze-pop parts of their psyche, emerging with a mesmerising new sound.
On their fifth album, Deafheaven take a bold and brave leap forward with a gorgeous and invigorating album brimming with style and splendor. Over the course of their first ten years, Deafheaven's music vacillated between tormented beauty and harmonic rage, a hybrid of black metal's malice and shoegaze's sublime wall-of-sound. In the context of their catalog, it takes on a whole other layer of defiant beauty. Across Infinite Granite, vocalist George Clarke showcases a startling vocal range; falsettos, whispers, multi-part harmonies, and other adventurous vocal treatments, with his trademark black metal-inspired howls mostly absent. Guitarists Kerry McCoy and Shiv Mehra expand their sonic palette to include synth textures using them to enrich their astral guitar work rather than outright replace it. Drummer Daniel Tracy has always been a force to reckon with behind the kit, but where he used to floor audiences with his speed and stamina, he's now free to broaden his approach and lay down authoritative drum patterns that together with bassist Christopher Johnson's punchy bass lines anchor the band's lofty arrangements. The refinement of their sound was further encouraged by producer Justin Meldal-Johnsen (M83, Paramore, Wolf Alice, Metric), who lent a pop ear to the record. Jack Shirley, who helped produce every previous Deafheaven album, remained on board to engineer the album at his Atomic Garden East studio in Oakland, CA along with additional engineering and mixing from nine-time Grammy Award winner Darrell Thorp (Foo Fighters, Radiohead, Beck). Ultimately, Infinite Granite is Deafheaven's most goosebump-inducing album to date.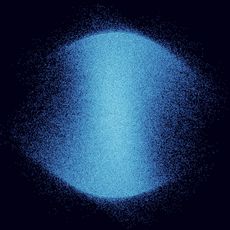 Tracklist
Shellstar
In Blur
Great Mass of Color
Neptune Raining Diamonds
Lament for Wasps
Villain
The Gnashing
Other Language
Mombasa