Frank Carter & The Rattlesnakes
STICKY
international death cult / awal
---
Frank carter & the rattlesnakes instore
wednesday 20th october 2021 – 6:30pm
(all ages - under 14s can come for free)
preorder any format above with "instore entry" for guaranteed priority entry!
(please note that this is a physical event in our shop, not an online stream).
we would strongly encourage everyone to do a lateral flow test before attending & wear a mask in the shop during the event as you will be in the shop for a longer time than usual.
-----
'Sticky' is the sonic eruption of a year-plus of suppressed energy. While it's an escapist experience, recent reality is never too far away. It's there in 'Go Get A Tattoo', which was inspired by Carter's experience of having to shut his first London based tattoo parlour, Rose of Mercy, almost immediately after it opened. It's just as present in 'My Town', a suburban vignette of society's collective mental health quickly unravelling.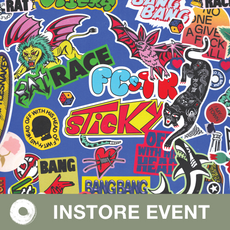 Tracklist
Sticky
Cupid's Arrow
Bang Bang
Take It To The Brink
My Town
Go Get A Tattoo
Off With His Head
Cobra Queen
Rat Race
Original Sin