howlin rain
The Dharma Wheel
SILVER CURRENT RECORDS
---
Presenting Howlin Rain's grand-scale new studio album: The Dharma Wheel, a six-track, 52-minute dive into a joyous fantasy realm.
A sonic travelogue of prog funk, psychedelia, bygone West Coast jam music and watermelon rock. The triumph of a working band!
Over nearly 20 years, Howlin Rain may have become the quintessential independent American rock 'n roll band: a steam-spitting Hydra of cranked guitars, kicking asphalt dust through a kaleidoscoping travelogue of desert motels and dives, volleying forth transmissions of sci-fi poetry from the blacktop veins of this cracked and aching country.
Now, in America 2021, capping these strangest and sorest of times, the band returns with The Dharma Wheel, a six-track, 52-minute dive into a joyous fantasy realm of exaggerated present.
"I wanted The Dharma Wheel to be a portal from our everyday world, the one from which you stand on hard ground and hold the album in your hands and peer into the artwork, and into another universe," says songwriter, guitarist and vocalist, Ethan Miller. "You enter into that universe with your eyes and ears and mind and take a ride through free-form meditation on these ideas — from big, fundamental concepts about our existence right down to the grease that rolls down the arm of a pulp novel killer as he eats a gas station hot dog in an old Dodge in an alleyway."
Lyrically, Miller has completed his evolution into a mushroom-plucking Whitman of the West, singing outlandish tales in a topographic blend of Humbead's Revised Map of the World and an inverted U.S. where downtrodden bodhisattvas roam the back streets and moonless country roads.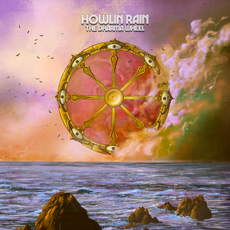 Prelude
Don't Let The Tears
Under The Wheels
Rotoscope
Annabelle
Dharma Wheel