other titles...
See also...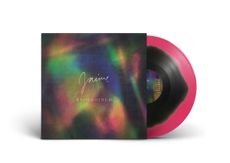 "13th Century Metal" Michael Kiwanuka Version
"Goat Head" EARTHGANG Version
"Stay High" Childish Gambino Version
"Presence" Little Dragon Remix
"Short and Sweet" Bon Iver Remix
"Tomorrow" BadBadNotGood Remix
."Baby" Gitty Remix featuring Syd
"History Repeats" Georgia Anne Muldrow Geemix
"Georgia" J Most Remix featuring Emily King
"Stay High again.." Fred again.. & Joy Anonymous Version
"He Loves Me" 9th Wonder Remix featuring Common
"History Repeats" Jungle Remix
"Run To Me" Laura Mvula Version
Brittany Howard
JaimeReimagined 
columbia
The stars have been queueing up round the block to turn their hands to Howard's solo output and what a delectable smorgasbord of smooth remixes they've mustered – this one's going to be real tough to peel from the shop stereo.
Jaime – the first solo album from Brittany Howard – has been reimagined by an astonishing cross-section of the five-time GRAMMY winner's peers. JaimeReimagined features fresh takes and remixes of the album's 11 songs.