R.E.M.
New Adventures In Hi-Fi (25th Anniversary Edition)
Concord/UMC
---
As the band's fifth collaboration with long-time producer Scott Litt (Green, Out of Time, Automatic for the People and Monster), the album experiments with new sonic textures, filled with cinematic imagery, dissonant notes and haunting effects.
First released in 1996, this was rem's last studio recording with founding member Bill Berry who left amicably the following year. The platinum-selling title includes the singles "Electrolite," "E-Bow the Letter" (featuring Patti Smith) and "Bittersweet Me," and represents R.E.M.'s longest studio release with a total run time of 65 minutes. New Adventures in Hi-Fi grew to cult status years after its release, with several press retrospectives—and band members themselves—ranking it among the top albums in R.E.M.'s recorded catalogue.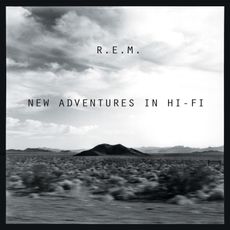 Tracklist
CD1 - New Adventures in Hi-Fi (remastered audio)
How the West Was Won and Where It Got Us
The Wake-Up Bomb
New Test Leper
Undertow
E-Bow the Letter
Leave
Departure
Bittersweet Me
Be Mine
Binky the Doormat
Zither
So Fast, So Numb
Low Desert
Electrolite
CD2 - B-Sides and Rarities
Tricycle (Instrumental)
Departure (Live Rome Soundcheck / Rome, Italy / 2/22/1995)
Wall of Death
Undertow (Live / Atlanta, GA / 11/18/1995)
Wichita Lineman (Live / Houston, TX / 9/15/1995)
New Test Leper (Live Acoustic / Seattle, WA / 4/19/1996)
The Wake-Up Bomb (Live / Atlanta, GA / 10/4/1995)
Binky the Doormat (Live / Atlanta, GA / 11/18/1995)
King of Comedy (808 State Remix)
Be Mine (Mike on Bus version)
Love Is All Around
Sponge
Leave (Alternate Version)
Blu-Ray
R.E.M. Outdoor Projections – Saturday Sept 7, 1996 – 5 cities (64:56)
New Adventures in Hi-Fi EPK – previously unreleased 30 min version (29:13)
New Adventures in Hi-Fi 5.1 Audio
New Adventures in Hi-Fi – Hi-Resolution Audio
E-Bow the Letter (Music Video)
Bittersweet Me (Music Video)
Electrolite (Music Video)
How the West Was Won and Where It Got Us (Music Video)
New Test Leper (Music Video)