idles
CRAWLER
partisan
---
*** we have a signed test press to give away to one lucky winner so simply preorder the new album on any format for a chance to win & never fear, all existing preorders are already in the hat* ***.
This is the encapsulation of the Idles sound in one record: chaotic energy, brutal introspection and wide reaching, socially conscious lyrics – all roads lead to 'Crawler'. The Bristolian punks have always had ambition, but never before have the cast their net so wide and caught so much. Explorations in anxiety that wouldn't sound out of place on a Girl Band diatribe crash into incendiary riffs and righteous anger, into walls of sound threatening to fall down around you any minute. This is the sound of a band at their absolute creative peak. We're hooked.
Frontman Joe Talbot says, "We want people who've gone through trauma, heartbreak, and loss to feel like they're not alone, and also how it is possible to reclaim joy from those experiences." IDLES albums have always been anchored by these overarching themes, but the ability of the band to juxtapose beauty and rage with humor and drama has never felt more satisfying than on "CRAWLER."
These stories are vividly brought to life through IDLES' most soul-stirring music to date, recorded with co-producers Kenny Beats (Vince Staples, Freddie Gibbs) and IDLES guitarist Mark Bowen. There are, of course, numerous moments that will inspire absolute mayhem in a packed concert venue, but there are also fresh textures and experiments that push IDLES into thrilling new territory. "I don't really see us as a 'rock band' and working with Kenny [Beats] freed us of the idea of genre," Talbot enthuses. "On this album, our dissolution of ego was helped by Kenny's humble nature and willingness to learn. He has boundless passion for making the best song possible. Not the best 'rock' song — the best song possible." He continues, "It was writing selfishly that helped make it possible. Reflecting. Telling my own story. Not trying to tell everyone else's story. Not trying to fix the world — just talking about how I am fixing mine."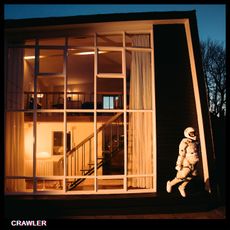 Tracklist
MTT 420 RR
The Wheel
When the Lights Come On
Car Crash
The New Sensation
Stockholm Syndrome
The Beachland Ballroom
Crawl!
Meds
Kelechi
Progress
Wizz
King Snake
The End
Ecomix lp
CRAWLER pressed on limited edition, Eco-Mix coloured vinyl, housed in a single-sleeve jacket and printed inner sleeve.
Eco-Mix vinyl production uses leftover wax that's already in the factory, meaning each record is different and the colour is completely random. It's more environmentally friendly as it's using up material that would have otherwise been thrown away. Records may vary from beautiful blues, vibrant reds, glowing greens and everything in between. Every copy is unique.
Deluxe 2LP
CRAWLER mastered at half-speed (45rpm), pressed on deluxe double heavyweight 180g black vinyl, housed in a gatefold jacket with printed inner sleeves.
LP

CRAWLER pressed on black vinyl, housed in a single-sleeve jacket and printed inner sleeve.
CD
CRAWLER on CD. Digipak packaging.