other titles...
See also...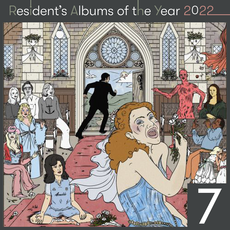 Nashville
I Don't Really Care For You
Peter Bogdanovich
No More Virgos
Lonely
Groundhog Day
Communion
Every Bottle Is A Boyfriend
2 Wrecked 2 Care
Geography Teacher
I Wanna Be A Cowboy, Baby!
I'd Want U
cmat
IF MY WIFE NEW I'D BE DEAD
CMATBABY
Combining the glamour of Dolly with the lyrical wit of Father John Misty or Florence Shaw, CMAT has produced a debut that's as melodramatic as it is unpretentious. The phrase 'All Killer - No Filler' is reserved for records like this! CMAT's enchanting country-pop vibes & dazzling vocals turn every head in the shop the moment the opening lines of 'Nashville' are turned on. When 'I Don't Really Care For You' arrives, we're guaranteed "who's this you're playing?" multiple times. By the time 'No More Virgos' is on, the wallets come out. We may have overlooked it somewhat on release but this has proven to be the unifying album of 2022 on the counter. Impossible to resist - we genuinely think this is going to be a staple on the stereo for years to come - a proper classic. CMAT's a Brighton resident now, so we might just start calling our city the European home of country music! Anyone who has seen one of Ciara's shows or music videos will know that this is an artist we will be seeing a lot more of in future. Whether it's at the Prince Albert or the Komedia, she plays as though she's sold out the Ryman. CMAT is a star that deserves to shine!
"A stunning entry into a distinct and idiosyncratic world...It's a rare skill to be both silly & devastatingly tender" - MusicOHM