other titles...
See also...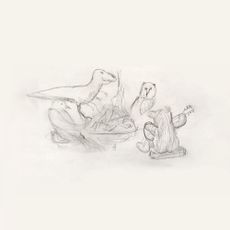 Change
Time Escaping
Spud Infinity
Certainty
Dragon New Warm Mountain I Believe In You
Sparrow
Little Things
Heavy Bend
Flower of Blood
Blurred View
Red Moon
Dried Roses
No Reason
Wake Me up to Drive
Promise is a Pendulum
12,000 Lines
Simulation Swarm
Love Love Love
The Only Place
Blue Lightning
BIG THIEF
Dragon New Warm Mountain I Believe In You
4ad
This is the sound of a band pulling at every creative thread they can find to stitch an enormous tapestry.
'Dragon...' takes many forms in its hour & a half. Jam band grooves ('Red Moon'), whimsical acid folk ('Spud Infinity') & swirling pop ('Simulation Swarm') form parts of the current that pulls the album along, but it's the sprawling whole that's greater than the sum of its parts. This is a band operating at a creative peak, with every new avenue leading to new worlds. The studio chatter on album closer 'Blue Lightning' has Adrianne Lenker pose "What should we do now?". We can't wait to find out.