other titles...
See also...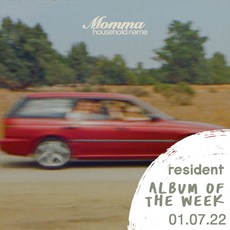 Rip Off
Speeding 72
Medicine
Rockstar
Motorbike
Tall Home
Lucky
Brave
Callin' Me
Spider
No Stage
No Bite
face down (dinked exclusive flexi track)

Dinked 192

- White Splatter on Clear Vinyl *
- Red flexi-disc - "Face Down" exclusive track *
- Numbered edition *
- Limited pressing of 500 *

* EXCLUSIVE to Dinked Edition
Momma
Household Name
Lucky Number
The 3rd album from this magnetic & dynamic duo remains comfortingly DIY while expanding the sonics.
The 90's alt influence is apparent - you'llhear Pavement, Nirvana, The Breeders - but there's a Gen Z youthfulness too, which means it instantly won over a wide range of Resident ears!
Fresh off a series of dates with Wet Leg, the band's new full-length is a tightly stitched collection that is magnetic & dynamic. 'Household Name' reveals an unfettered vulnerability elevated by serious alt-rock bombast.

Now based in Brooklyn, New York, after relocating from hometown Los Angeles, the duo have already released two well-received albums on a small L.A. based indie label whilst still in high school. Now Allegra Weingarten and Etta Friedman are ready to take things to the next level. The prodcution keeps it feeling comfortingly DIY whilst still expanding the sonics. The 90's alt influence is apparent – for sure, you'll hear Pavement, Nirvana, Smashing Pumpkins, The Breeders, Liz Phair etc - but there's a real Gen Z youthfulness to it, which has instantly won over a wide range of young Resident ears.

'Household Name' perfects a balance of heavy riffs, deep emotions, inviting sonic production, and a light-hearted, wry sense of humour.

"They're no longer simply emulating their influences... instead creating a harmonic slacker-pop of their own." - The Fader
"Gloomy and threatening, filled with visceral imagery and wonky guitar work that feels just on the verge of breaking." - Stereogum