MALL GRAB
WHAT I BREATHE
Looking for Trouble / LG105
---
**awaiting new rescheduled date**

mall grab instore & signing.

monday 10th october 2022, 6.30pm
(all ages - under 14s can come for free)
preorder any format above with "instore entry" for guaranteed priority entry for you & a guest.
If you've already purchased this in the shop, then just email us a picture of your record with the reciept for entry!
Capturing the heat of a musical melting pot at boiling point, Mall Grab dashes in a whole host of dance music genres to create something sublimely his own - we double dare you to sit still when this is bumping. The Australia-born London-based powerhouse reaches within to create the most comprehensive demonstration of his style to date – loudly defining the raw energy that has become synonymous with the moniker. "This album is deeply personal and an exploration of all influences, sounds and sides of the Mall Grab project. It follows my journey of the last 6 years from a university dropout in Newcastle (Australia), making music as a source of happiness and expression." While glances of what Jordon gravitates towards in dance music can be heard in the record label imprints he steers—Looking For Trouble and Steel City Dance Discs—it's with What I Breathe that he elaborates on and articulates his diverse ear for music. Through collaborations with Brendan Yates of Turnstile, Novelist, D Double E and Nia Archives, the Mall Grab repertoire of emotive electronics is used to traverse his love of hard-to-define energies that exist between genres like Hardcore, Hip-Hop and Soul. "I have been lucky enough to work with some of my favourite artists which have really been the glue that keeps the project coherent. There are a lot of familiar sounds on this album that my listeners and followers have become accustomed to and joined me in the deep dive. Elements of emotional but hard and pumping club music are intertwined with House, Jungle, Rave and Grime. My adopted home city of London has been a huge inspiration to how my music has evolved and progressed, and on What I Breathe I wanted to create a body of work which not only had something for everyone who has been with me the past 6 years, but also those who aren't yet aware of what I'm about or the music I make." Jordon's long-standing penchant for all things DIY blossoms in tracks like Lost In Harajuku and Without The Sun which feature his own original lyrics and vocals. As the album twists and weaves from one song to the next, gleaming melodies flare up into club-ready anthems such as Metaphysical and Breathing. The kinetic flow of the music as a whole can be attributed to the many years of cutting his teeth as a DJ, a skill that can be testified by anyone who has witnessed a Mall Grab set. "As I was a DJ for many years before I delved into producing electronic music, I had a wide appreciation and love for all types of music, predominantly gravitating towards 'band' music when creating my own projects, before evolving into a fully-fledged electronic producer – however always retaining the influence and love for all things live and genre-fluid." Even with a stack of very well-received projects already under his belt, What I Breathe can be seen as the first deep breath in and a fierce declaration of what's to come for Mall Grab. "I'm grateful for everything and everyone in my life, those I love and those who support my music, through all the ups and downs. I live and breathe this shit. I cannot do anything else. I will continue until there is nothing left for me to say."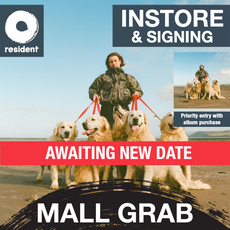 Hand In Hand Through Wonderland
I Can Remember It So Vividly
Love Reigns
Understand (ft. brendan yates)
Patience (ft. nia archives)
Without The Sun (ft. jordon alexander)
Spirit Wave
Breathing
Intercity Relations
Time Change (ft. novelist, d double e)
Distant Conversation
Metaphysical
Lost in Harajuku (ft. jordon alexander)