Rachael Dadd
KALEIDOSCOPE
Memphis Industries
---
The contemporary folk multi-instrumentalist and long-time This Is The Kit band member, Rachael Dadd, wraps us in her technicolour dream blanket on her naturally radiant new album.
The wildly creative free-form songwriter was another one of those annoying people who used their lockdown wisely & productively. During that time, she crafted her magical new album 'Kaleidoscope', which joins the Dinked Edition family becuase, as soon as we heard it, we knew you needed to, too. Japanese aesthetics absorbed from her time spent living there are subconsciously woven into Rachael's songs. Married to her gentle but affecting folk-inflected melodies, she coaxes us into her vibrant soundworld and away from the overwhelming noise outside.

Co-produced "intuitively, boldly, and playfully" by Rachael and Rob Pemberton (The Staves, Emily Barker, Maja Lena), 'Kaleidoscope' includes musical collaborators such as Maja Lena (Low Chimes), long-time collaborator Emma Gatrill (Willy Mason), Alex Heane (bass), Charlotte West (synths), Alex Garden (strings) and 2019's 'Flux' producer Marcus Hamblett (Villagers, James Holden, The Staves, Laundromat), giving the record "just the right colour combination, just the right pattern of shapes, plenty of space where needed", reflects Rachael.
"Rachael Dadd is one of the most talented, wise, prolific and important women of our times" - Kate Stables of This is the Kit

FFO: This Is The Kit / Rozi Plain / The Staves / Laura Marling / James Yorkston / Alela Diane / Elbow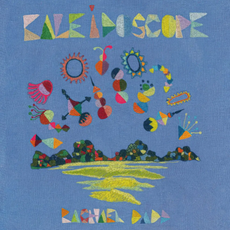 Children of the Galaxy
Footsteps
Moon Sails
Ox
Ghost
River Spirit
Heads Down
For Honey and Ray
White Snow
Swift
Join the Dots
The Bridge (feat Kate Stables – This Is The Kit) (dinked bonus cd)
Fronds (dinked bonus cd)
Crystalizing in Time (dinked bonus cd)
Fences (feat Rozi Plain) (dinked bonus cd)
Dinked edition 203

- 'Kaleidoscope' splatter coloured vinyl *
- Bonus CD - 4 track EP "The Bridge" featuring Rozi Plain & This is the Kit *
- Hand numbered *
- super Limited Pressing of 300 *

*EXCLUSIVE to Dinked Edition