other titles...
See also...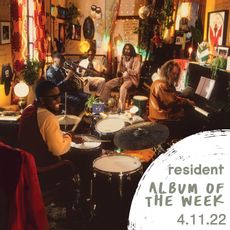 indies only vinyl



signed print



deluxe vinyl



cassette
Life Goes On (feat. Sampa The Great)
Victory Dance
No Confusion (feat. Kojey Radical)
Welcome To My World
Togetherness
Ego Killah
Smile
Live Strong
Siesta (feat. Emeli Sandé)
Words by Steve
Belonging
Never The Same Again
Words by TJ
Love In Outer Space (feat. Nao)
Ezra Collective
WHERE I'M MEANT TO BE
Partisan Records
Collective, indeed! This rag-tag gang of exemplary jazz musicians open themselves up to a plethora of world-roaming styles to create a most ebullient record.
Featuring the absolute workhorse that is Joe Armon-Jones on keys, this jazz quintet sound like they've had a fantastic time morphing into different incarnations inspired by a host of styles, from reggae to samba, & that joy travels straight through the speakers! Adding to the overriding sense of unity, we enjoy a glittering set of guest features from Sampa The Great, Kojey Radical, Emile Sande & Nao. If you're after an instant hit of dopamine flavoured aural gratification, you'll literally be very happy with this.