Algiers
Shook
Matador
---
Having previously delivered us our #1 album of 2015, we're not a bit surprised that these exhilarating purveyors of hyper-charged industrial gospel have produced yet another album of the week with the white-knuckle ride that is 'Shook'.
"I think this record is us finding home," says Mahan, with Fisher adding: "It was a whole new positive experience— having a renewed relationship with the city we're from and having a pride in that. I like the idea that this record has taken you on a voyage but it begins and ends in Atlanta."

'Shook' features contributions from Rage Against The Machine's Zack De La Rocha, Boy Harsher's Jae Matthews, Big Rube, billy woods, Backxwash, and many more. Stacked with guests spanning icons through to future stars, 'SHOOK' is a lightning rod for an elusive yet universal energy and feeling. A plurality of voices; a spiritual and geographical homecoming; a strategy of communion in a burning world; the story of an end of a relationship; an Atlanta front porch summer party. Ultimately, it's a 17-track set of the most mind-expanding and thrilling music that you are likely to hear anytime soon.

Algiers have always been unflinching, but 'SHOOK' is at the same time notably joyous and celebratory. Across the seamlessly flowing set, including spoken vignettes and ambient instrumental segues, the band pay respect to a sprawling lineage of rap and punk iconoclasts from DJ Premier, DJ Screw and Dead Boys to Lukah, Griselda and Dïat – chopping and screwing beats on a dusty SP-404 and a Sequential Circuits Tempest, building imagined sample libraries from scratch.

The liner notes read like a who's who of ground-breaking and contemporary underground music, featuring Zack de la Rocha, Big Rube (The Dungeon Family), billy woods, Samuel T. Herring (Future Islands), Jae Matthews (Boy Harsher), LaToya Kent (Mourning [A] BLKstar), Backxwash, Nadah El Shazly, DeForrest Brown Jr. (Speaker Music), Patrick Shiroishi, Lee Bains III, and Mark Cisneros (The Make-Up, Kid Congo Powers). Their contributions throughout deftly reshape and recontextualize the notion of being Shook from a variety of perspectives, occupying shifting roles as oracles and narrators.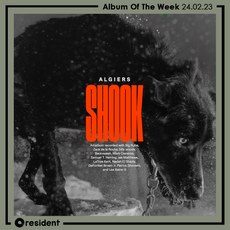 Everybody Shatter (ft. Big Rube)
Irreversible Damage
73%
Cleanse Your Guilt Here
As It Resounds (ft. Big Rube)
Bite Back (ft. billy woods & Backxwash)
Out of Style Tragedy (ft. Mark Cisneros)
Comment #2
A Good Man
I Can't Stand It! (ft. Samuel T. Herring & Jae Matthews)
All You See Is
Green Iris
Born (ft. LaToya Kent)
Cold World (ft. Nadah El Shazly)
Something Wrong
An Echophonic Soul (ft. DeForrest Brown Jr. & Patrick Shiroishi)
Momentary (ft. Lee Bains III)