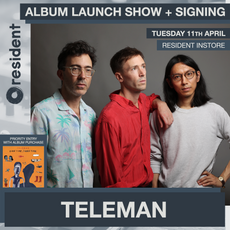 Short Life
Trees Grow High
Wonderful Times
Easy Now I've Got You
Cherish
Hello Everybody
I Can Do It For You
The Juice
The Girls Who Care To Stay
Good Time/Hard Time
somebody tell me it's alright (dinked 7" exclusive)
short life demo (dinked 7" exclusive)
teleman
'Good Time/Hard Time' Album Launch Show
at resident music, brighton - tuesday 11th april 2023 (all ages - under 14s can come for free)
this april we welcome teleman down to celebrate the release of 'good time/hard time' with an instore performance and signing.
• running timings : 6:30pm start.
• no actual tickets are issued for the show – you will get an order confirmation & your name will be added to the guestlist - you'll just need to give your name on the door.
• the release date for physical copies of this album is 7th april 2023. you will be able to collect the album at the show.
• please wait for an order notification to show your album is ready to collect before coming in to collect your copy.
• this page is for entry to the teleman instore show - to purchase signed copies of ''good time/hard time' without entry to the show, please head here.