other titles...
See also...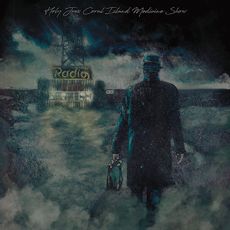 1. Holy Joe (Sounds From The Other Side)
2. The Sinner
3. Hotel
4. Holy Joe (Hitchhiker At The Highway's Edge)
5. Leave This Town
6. The Road Is Calling
7. Holy Joe (Rita Is Having A Bad One)
8. Never Be In Love Like That Again
9. Drifter's Prayer
10. Holy Joe (Bobby And Faith)
11. Long Drive To The City
12. Down By The Riverside
13. Holy Joe (The Graveyard Shift)
14. Baby Face Nelson
15. Holy Joe (A Wise Man Once Said)
16. The Coral Island Killer
17. Holy Joe (Let The Credits Roll)
The Coral
Holy Joe's Coral Island Medicine Show
Run On Records / virgin
Expanding The Coral's lore even further with death-ditties, murder ballads, and a reapparance of "The Great Muriarty", this musical stepping stone conjoins the past with the future and envisions it all on a radio-broadcasting zeppelin, obviously.
Bridging 'Coral Island' and 'Sea Of Mirrors' this album brings James and Ian Skelly's grandad aka "The Great Muriarty" back into the fold for the narrated post-script to one of The Coral's most beloved albums to date. This is the show that brings you sounds from the other side all through the night. We'll be playing murder ballads and death-ditties, love songs and eulogies, songs about drifters, grifters, hobos and killers...

If Coral Island was a box-office hit in 2022, then Holy Joe's Coral Island Medicine Show is it's low-budget little brother, written in a year and stitched together in less - think The Texas Chainsaw Massacre ll or Police Academy: Mission To Moscow - but without the plane fare to Russia. This is a sequel to rival the most shameless of cash-ins.

It features a ramshackle cast: along with the usual suspects, Coral Island compère (and Skelly Granddad) The Great Moriarty makes a return, alongside actor and friend-of-the-band John Simm, who recites wanderlust eulogy Drifter's Prayer. Glaswegian singer Rianne Downey is involved in a murderous duet. An unnamed pedal-steel player from the back of beyond plays a funeral score over Hotel.

Don't get me wrong, this isn't an act of self-sabotage or half-arsed in any way; more a deliberate attempt to make an art form out of the forgotten follow-up. Who else but The Coral are going to fill this important cultural sinkhole?

Framed inside a midnight radio show beaming out from a Michelin blimp that hovers somewhere past the piers of Coral Island, Holy Joe... is a love letter to the tradition of the death disc and murder ballad, from Stack-o-Lee to Skeleton Key, and everything in between.

Stay up late. Tune in. If you do, who knows? You might end up loving it more than the original.