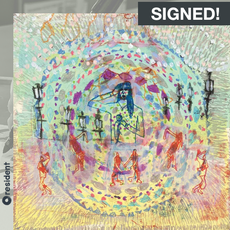 California
Phone Me
Vincent Kompany
Such A Miranda
Rent
Where Are Your Kids Tonight? (feat. John Grant)
Can't Make Up My Mind
Whatever's Inconvenient
I... Hate Who I Am When I'm Horny
Torn Apart
Stay For Something
Have Fun!
cmat
CrazyMad, For Me
CMATBABY Ltd
her second album 'CrazyMad, For Me' takes popstar CMAT through a reinvention of what came before: this is the grand statement of an ambitious mature sound, a textured sonic feel and details of a complex emotional and metaphorical landscape.
"It's an abstract break-up album… about what happens when you are still angry about something that happened 10 years ago." It's grand, full of hooks and picture-painting lyrics projected by her singular vocals. It's the mainstream indie that CMAT loved as a teenager, filtered through 20th century country music, amplified by knowledge of 80s and 90s pop hits with a slide guitar and a camp twist. Complex, intimate and with influences far-flung across time and place, 'CrazyMad, For Me' is an instant classic album for the broadest audience.